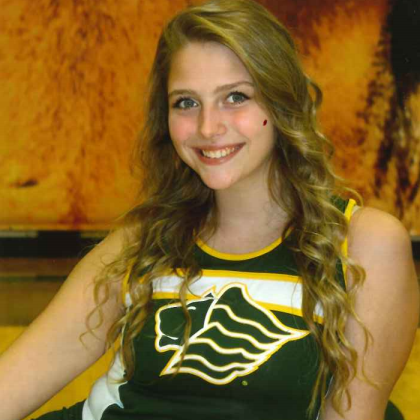 Amber Pelletier Memorial Scholarship
Remembering Amber…
In May 2019, Amber had just completed her junior year at Saint Leo University, where she studied Psychology and Education. Soon after, Amber tragically passed away. Amber, a resident of Central Falls, Rhode Island, participated in cheerleading and dance. She was beloved by her classmates, her friends, her animals, and her family. The Saint Leo community will always remember Amber's bright spirit. Her family established the Amber Pelletier Memorial Scholarship in her name. It will impact students for years to come – just as Amber impacted the lives of those close to her.
From the scholarship donor:
Why did you choose to create a scholarship at Saint Leo University?
Amber loved this school. It was home to her. I want her memory to live on at Saint Leo.
What would you want the recipients to know about the person for whom this scholarship is named?
Amber was a girl who loved life. She was extremely funny. But she was also very focused on her future. She had her whole life mapped out.
What is your favorite Saint Leo story, tradition, or what has Saint Leo meant to you?
Amber was the student, but many of her friends she met at Saint Leo have become my extended family.
What do you hope recipients gain through this scholarship support?
I want them to be able to fulfill their dreams, whatever they may be.