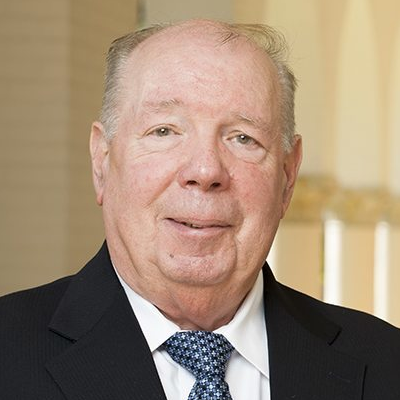 Carmine Picciano '76 Memorial Scholarship
John Picciano '69 came to Saint Leo College after being a self-described underachiever in high school. Growing up in New York, he had never really pushed himself, and his parents felt he could benefit from a small Catholic college.
At age 17, Picciano was happy to come to Florida, but he discovered that Saint Leo was more than warm weather and having fun. "I matured quickly," he said. "Saint Leo helped me actualize and utilize my potential."
Part of that potential resulted in Picciano going on to St. Vincent de Paul Major Seminary in Boyton Beach, FL, and being ordained a Catholic priest in the Diocese of Orlando. He was appointed the director of Ministry of Disabled Persons for the diocese, and in that role he provided drug and alcohol counseling and interventions, helping countless people embrace second chances.
While in the priesthood, Picciano went back to school, attending Barry University (Miami, FL) and earning a master's degree in clinical social work. He then left the priesthood and began working with behavioral health patients, and then transitioned to hospital administration. He has since become CEO of Oglethorpe, Inc., a hospital management company based in Tampa, FL, that directs the operation of eight behavioral health facilities in Florida, Ohio, Louisiana, and Texas.
Mr. Picciano also serves as CEO of the new Darryl Strawberry Recovery Center in St. Cloud, FL. Co-founded by former Major League Baseball player Darryl Strawberry, who fought his own addictions, the center offers treatment for people who are struggling with substance abuse. For many years, Picciano had lost touch with Saint Leo. In 2008, he reconnected via Dr. Peter Simmons, who was then a faculty members and approached Picciano to provide internships at Oglethorpe. That partnership has proven fruitful, as Oglethorpe continues to offer internships to Saint Leo MBA students and has hired some of those interns after graduation. In addition, many Saint Leo social work students gain experience with internships at Springbrook Hospital, an Oglethorpe facility in Brooksville, FL.
Impact
John Picciano '69 is a big believer in second chances. As a donor of $1 million, which will be used to permanently endow scholarships, he hopes to give many students second chances in the years to come.
Mr. Picciano was inspired to make a $1 million donation, on behalf of his entire family, because he felt it was time to give back, to find a way to give other students the chances he had. The scholarships have been named in honor of his late brother, Carmine Picciano '76, who majored in music education at Saint Leo. A musician with a love of the saxophone and piano, he worked in the insurance industry for many years before succumbing to cardiac issues. As a tribute to Carmine, the scholarships will be given to students who exhibit a talent and interest in music and the fine arts.
When he looks back on his days at Saint Leo, Picciano recognizes how much he benefitted from the experience. "Saint Leo was instrumental in my development," he said. He notes that Father Dennis Murphy and the monks who taught him were academically sharp and advised creative thinking in everything he did. "Without Saint Leo, I wouldn't be where I am now."
John Picciano also hopes his gift will inspire his fellow alumni to give back, saying, "Many of us owe a debt of gratitude for the start in life Saint Leo provided, and I encourage others to remember those times and keep that experience alive for others with philanthropic support."