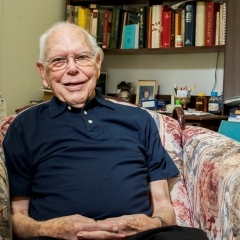 Father Damian DuQuesnay, OSB, Endowed Scholarship
Born July 24, 1918, in Highgate, Jamaica, Father Damian DuQuesnay graduated from Jamaica College Prep and from Saint Benedict College in Atchison, KS, in 1943 with a BS in zoology. Father Damian received this master's degree from Catholic University of America in Washington, DC, in 1951. While still a student, he was asked what he wanted to do with his life. One day, while reflecting during a walk, he had a revelation that he would give himself to God.
He was ordained into the priesthood by Bishop Emmet Michael Walsh on the Feast of Corpus Christi, June 20, 1946, in the unfinished Abbey Church. Father Damian was the first Jamaican ever to wear the habit of a Benedictine.
Of his early days at the abbey Father Damian said, "Our prayer life and our individual contribution to common life served to unite us into a closely knit and caring community of monks having a deep appreciation and regard for one another."
In 1957, Father Damian was appointed abbey prior and also served as novice master and brother master.
One of the greatest adventures of Father Damian's life occurred in 1963. With an opportunity to implement the Benedictine philosophy of missionary service, he was assigned by Abbot Marion Bowman as part of an appeal for monks to serve the remote mission of Sumampa in Argentina.
In response to the remote locale and grim surroundings, Father Damian reflected, "It was the most difficult task I had ever been obliged to undertake. There was no possibility of support. It was a hopeless location and a hopeless situation. We were in the outback. Everything was an adventure."
Father Damian returned to the abbey in 1966 to teach biology, histology, and zoology at Saint Leo College and served as department chair. He was always fascinated with animals and even started an aviary at the abbey.
After his retirement from the Saint Leo faculty, he was chaplain to Holy Name Monastery, a responsibility he eventually relinquished at age 90 due to his limited mobility. Father Damian left this earth for his eternal home on May 8, 2015. He was 96 years old.