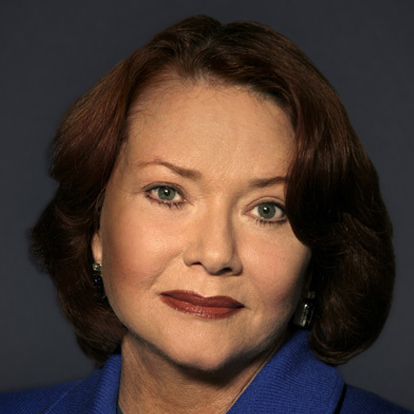 Frank Swager Endowed Scholarship
Sheila McDevitt '60 is always ready with the prescient observation, the penetrating question, the encouraging word. And Sheila is always among the first to contribute if she is convinced that her gift will be used wisely and for a worthy purpose.
The future general corporate council of TECO Energy, Inc., and chair of Saint Leo's Board of Trustees was five years old when she arrived at Saint Leo. Upon Sheila's mother's untimely passing, her dad turned to the Benedictine Sisters who conducted a boarding school program for elementary school children. There, Sheila was motivated and learned responsibility by doing chores at the boarding house, such as cleaning, doing the wash, and shining shoes. "I learned many 'life lessons' at the Academy. They taught me independence, how to read people and make decisions early in my life."
Sheila credits the education she received at Holy Name Academy as the beginning of her personal and professional success. Looking back, she sees Holy Name as a "safe haven" for a young, impressionable child. "The Benedictine Sisters and Brothers raised me. I learned the importance of education in my formative years and it has stayed with me throughout my entire life."
Exemplifying her gratitude for the solid foundation she received, Sheila is an enthusiastic supporter of Saint Leo University. She has given in just about every way it is possible to give: sustained annual giving, support of building campaigns, creating an endowed scholarship, and including a bequest for Saint Leo in her will.
The scholarship fund Sheila established in 2007 has special meaning for her and for Saint Leo's history. The fund honors the memory of her cousin, C. Franklin Swager, a member of the Saint Leo College class of 1961 and a founding member of the "Monarchs" basketball team. Frank died in 1967, leaving an infant son who never got to know his father. Thanks to Sheila's generosity, each year the Frank Swager Endowed Scholarship helps a member of the Saint Leo men's or women's basketball team to afford a Saint Leo education. And it signifies for Frank's son and their descendants the affection and esteem in which Frank Swager will always be held by his alma mater.
Impact
Focused, decisive, thoughtful, witty, compassionate, caring—when Sheila McDevitt '60 makes your cause her cause, you get the whole package.
"Hopefully, I not only talk the talk, but walk the walk when it comes to my time, talent and treasure." This Sheila does, and her alma mater could not be more proud or more grateful.