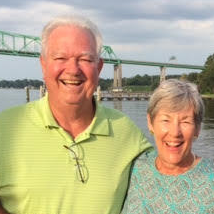 Rodney H. '67 and Ruth (Seyfried) '67 Williamson Endowed Scholarship
Why did you choose to create a scholarship at Saint Leo University?
Saint Leo University has meant much to us over these 50+ years (1963). While we were there to simply further our education, we did not realize, at the time, we would become a part of establishing a Saint Leo tradition and help the college grow its undergraduate programs leading to its first bachelor degrees. We were the pioneers…being the first junior class…then the first senior class (1967). We were active…serving on the Student Government Association (now SGU) for four years while participating in athletics (baseball and cheerleading) and Greek life. We are proud of the growth and improvements that have been made to the campus facilities while holding on to its roots as a Catholic institution and keeping the Benedictine spirit.
What would you want the recipients to know about the persons for whom this scholarship is named?
We want the recipients to know Saint Leo is where we met, became best friends and started our married life on August 20, 1966. We would want them to know our Catholic faith is an important part of who we are; that we value family life and a commitment to the community around us; that we have been blessed with four children and eighteen grandchildren. We have had many home bases (seven different states), but our connection to Saint Leo has always kept us grounded. When we return to visit Saint Leo, it is good to have that feeling of coming home. It was an important four years of our life…and still is!
What is your favorite Saint Leo story, tradition, or what Saint Leo has meant to you?
There are too many good memories to say there is one favorite. There was always a good sense of community…both with the priests, nuns, and students. The Abbey was a big part of the college in those early days. The priests were involved…as teachers, athletics, offering daily Mass and being mentors, counselors and friends. We have Saint Leo friends for a lifetime…with many fond memories.
What do you hope recipients gain through this scholarship support?
We hope the students who qualify for our financial assistance will be able to complete their educational pursuits and share their Saint Leo experiences with others…and hopefully contribute to helping someone else in need. Saint Leo is a special place for us and this gives us the opportunity to give back to students who perhaps will experience what we did.